Freelancing is no longer perceived as a "side hustle" or a way to supplement your income while unemployed. You now can work from the comfort of your own home and earn a full-time income!
It's always interesting to see what's in demand, & find your ideal freelancing role today!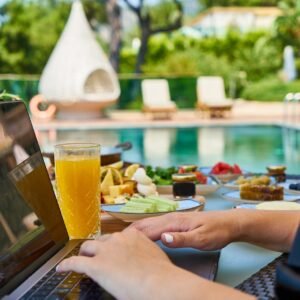 Graphic Designer
Potential:$200 – $1200/project
Competition:High
Details:Pick a graphic designing niche like illustration design for example.
SEO Specialist
Potential:$500 – $2000/month
Competition:High
Details:Pick a specific industry niche to stand out from the competition.
Google/Facebook/Instagram Ad Specialist
Potential:$350 – $1500/month
Competition:High
Details:Pick a specific industry niche to stand out from the competition.
Web Developer
Potential:$1000 – $10,000 (one-time). You may be able to charge maintenance costs when the client needs web updates.
Competition:Medium – High (Competition will vary depending on which coding languages you are an expert in)
Details:Master WordPress or Shopify as these are the most popular CMS providers.
Virtual Administrator
Potential:$40,000 – $60,000/year
Competition: Medium
Details:Focus on being an administrator for busy clients such as business owners.
Chatbot/Email Support
Potential:$15 – $25/hour
Competition:Medium
Details:While automation may be the preferred method of communication for many new companies, my thoughts are that you can never replace human interaction.
Call Support
Potential: $15 – $30/hour
Competition:High
Details:While large companies will generally hire their own team or outsource to an established support company, if you can work with small/new companies you might have a chance.
Cold Outreach
Potential: $1000 – $3000/month
Competition:Medium
Details:Become great at copywriting and become an expert at email, Linkedin outreach.
Copywriting
Potential:$1000 – $8000 / project
Competition:Medium (Not many people are actually good)
Details:Once you learn how to write through persuasive copy the opportunities are endless. You can focus on website copy, ad copy, email copy, etc.
Data Entry
Potential:$25 – $50/hour
Competition: High
Details:If you are an expert with Excel and other data visualization tools you can support industries that rely on data.
Digital PR & Link-Building
Potential:$1000 – $5000/month
Competition:High
Details:If you can master digital PR to help brands promote their name while at the same time driving natural backlinks to a clients site, this is priceless.
Freelance jobs I think are starting to die out…
Web Scraping– There are plenty of plugins that can automate this
Social Media Management– The days of posting have been automated with the help of many free and paid tools.
Bookkeeping:Although bookkeeping is still very profitable and is relationship based, there might be a point in the future where bookkeeping can be automated.
Here are some of the tips that I used to take my freelancing to next level.
Tips to start
Understand your core expertise and sharpen the skills.
Create profiles on popular websites like Upwork, Fiverr, freelancer, and people per hour.
Create a portfolio describing your core skills.(Not mandatory)
Create a stunning profile in these popular websites shown above and link to your portfolio(Not mandatory)
Since your profile is new, always start giving services for a lower rate compared to your competitors. (when I say lower, I do not mean providing a service worth 100$ for 5$). You can to always see your competitors and offer a lower price compared to them.
For the first few months, your goal should always be to build 5-star ratings, reviews, and testimonials.
Never commit to a project that you are not confident in doing.
Always communicate with your clients and understand the requirement properly.
Follow policies that are applicable to each website.
Try to build a long-term relationship with every client to get more projects in the future.