Should You Be Running Your Website On WordPress?
Many people think of WordPress as just a simple platform to run a blog on but over the years WordPress has evolved in one of the most popular Content Management Systems (CMS) available to users today. Currently, 26% of websites around the world are run on WordPress.
It's not just small websites that are run on WordPress now. Companies of all sizes use WordPress to create their online presence. Major news outlets, large businesses, and small businesses alike use the WordPress platform and can be seen in the WordPress showcase.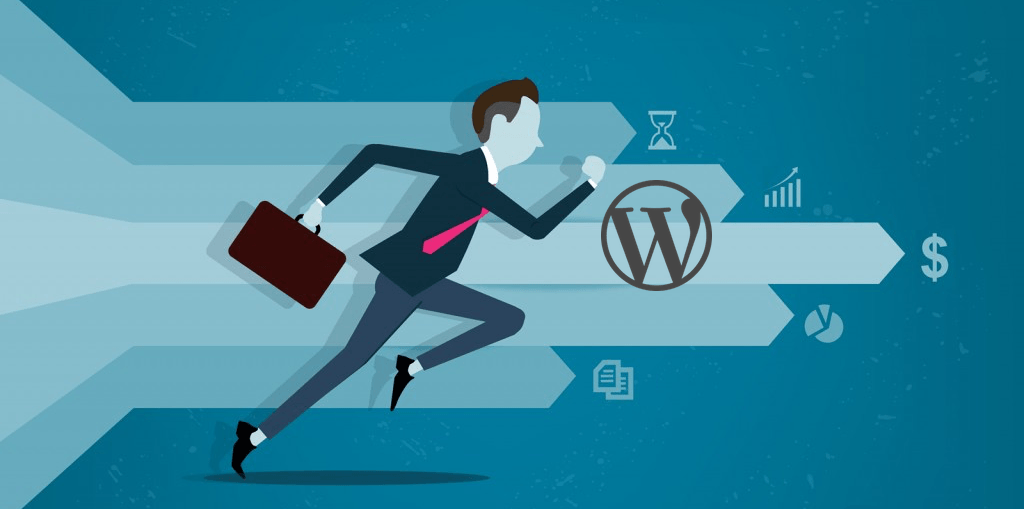 What exactly is WordPress?
In essence, WordPress is an online software that allows you to easily create, customize and manage fully functional websites from within an internet browser like Safari. Since it began back in 2003, WordPress has and continues to be an open source project. This means that hundreds, sometimes thousands, of volunteers every day are working on the WordPress code to improve it as well as building powerful tools, plugins, and themes to run on the platform.
WordPress' web-based editor allows users to design and format their websites without the complexity of HTML or other programming code. However, more tech-savvy users can go into the code and make more adjustments should they choose. WordPress has something for everyone, to ensure that every user gets the website that they want.
Why is WordPress good for small businesses?
Remember how we said that WordPress is open source? This also helps the service itself stay 100% free. There's no need to lock into any contract or worry about hidden fees with WordPress. WordPress removes the cost of web-designers or services by allowing you to easily build your website yourself using available themes and templates. Users will never have to contact a webmaster or IT professional to make changes to their website, as anybody can make website changes or updates within the user-friendly WordPress' interface.
WordPress also gives users the ability to extend the capabilities of their sites with thousands of plugins, themes and widgets. Themes allow users to customize the look of their site, widgets are small pieces of software that perform specific functions, usually in a sidebar, and plugins are used to extend the functions of any site. These extensions can come free of charge or at a cost, depending on the developer.
Should anybody need help with their WordPress website, it is easy to find support. With so many users, support can be found almost anywhere, and in different forms like; tutorial videos, forums, or FAQ pages.
What are the drawbacks to WordPress for a small business?
While the nature of WordPress's open source software makes it easy to use and a great choice for any business, it also makes WordPress websites a target for hackers. Outdated pieces of code from plugins, themes and widgets give hackers easy access into WordPress websites.On average 30,000 new websites are hacked every day.
Most small businesses think that their website isn't large enough for a hacker to attack, but in reality, this is the opposite of the truth. Hackers use automated bots to scan the world wide web for any websites with vulnerabilities. Once they've located a vulnerability the hacker will then proceed to infect that website and use it to distribute more malicious code. Small business websites are some of the most commonly attacked places on the Internet.
Make sure all of your code is kept up to date and click the following link for more free tips to keep your website secure.
What's the difference between WordPress.org and WordPress.com?
If you're just starting out and you don't need a website for anything more than a marketing tool than WordPress.com is where you'll want to start. From here you can create a website where all of the technical aspects are taken care of. There's no need to worry about updates or maintenance, but there are restrictions. There's a more limited choice of themes, plugins, and widgets available and you'll have to use a WordPress.com hosted domain (ie. yoursite.wordpress.com).
WordPress.org is for more experienced users or users that have a greater need for customization and functionality. With WordPress.org, updates and site maintenance are performed by the user, but users also have the ability to use the thousands of plugins, widgets, and themes that are available on the Internet to customize and extend the features of their website. Also, with WordPress.org, you can use your own domain name (ie. yoursite.com) and host the site with a webhost like HostPapa.
What is Managed WordPress?
With WordPress being as popular as it is, many webhosting companies are making specialized services, called Managed WordPress Hosting, to take care of running your WordPress website for you. With this service, a host will take care of WordPress updates, security, backups, up-time, speed, and customizations.
This service creates a hassle-free experience so that users can worry about running their business and not about what they need to do on their website. These services do come at a higher cost than regular hosting plans, because of the amount of service that is put into them, but it can be the perfect solution for someone that needs a great website and has no web building experience.